2011 NFL Burning Answers
LOS ANGELES — Seventeen Sundays have come and gone and the 46th Modern Day National Football League season is over. The next three heart-pounding, grit-filled playoff weeks will leave us with just two teams standing, set to do battle in Indianapolis for the Super Bowl and the Vince Lombardi Trophy. Back in September, just before the year got underway, I posed 46 Burning Questions for this year's NFL season; now, 17 weeks later, I give you The Answers.

1.) Is Bill Belichick the greatest coach of all-time? The Patriots still haven't won a playoff game since 2007 but a 13-3 finish this year and ANOTHER No. 1 seed and homefield advantage throughout the playoffs doesn't hurt the ole' resume.
2.) How good will the Texans defense be? Turns out Wade was the answer in Houston, as the Texans finished 2011 2nd in Total Defense. Their much maligned pass defense was 3rd best and 4th against the run. Mario Williams suffered a season-ending injury in Week 5 but already had five sacks when he went down.

3.) Who with the Broncos has it in for Tim Tebow? So much has been written about Mr. Tebow since he assumed the starting role in Denver in Week 7 I won't add to it but to say this: someone STILL has it in for him, mark my word. Oh, and he won six games in a row and won the division. That is all.
4.) Is Chris Johnson really worth a 1,625% raise? This season it took until Week 10 for CJ to get his 2nd 100-yard game. In 2010, he achieved that in Week 3 (he didn't get his 1st 100-yard game of 2011 until Week 4). So, yeah, not really worth the enormous raise he received. Just don't ask Matt Forte how he's feeling right about now.
5.) Really, the Falcons to the Super Bowl? OK, so I'll admit I was on the Falcons train, took Matt Ryan in my fantasy league and thought they'd take it to the next level. And they're the 6th seed. Time to reassess.

6.) Do the Jets have enough to back up the talk (again)? Nope.

7.) Does Jimmy Clausen + Cam Newton = Andrew Luck? 4,051, 21 TD, 17 INT, 706 rush yards, 14 TD. So yeah, Cam Newton is pretty good.
8.) Kudos for keeping this joke going, Carson Palmer; now when are you coming back? Turns out I had the right geographical location, just wrong side of the Bay. Carson was finally traded, to the Raiders no less, just before Week 7 and went 4-5 and will watching the playoffs the same place I will: the couch.

9.) What will become of Donovan McNabb's legacy? It pains me to write this one, but I knew it when I posed the question McNabb was basically at the end. Now, it's a done deal. He wasn't terrible for the Vikings but when with a 1st Round draft pick waiting in the wings, No. 5's end was going to happen sooner rather than later.
10.) Why exactly did Sidney Rice sign with the Seahawks? Rice played in only nine games, had just 32 receptions and finished the year on Injured Reserve. Hopes the checks all cleared.
11.) If Michael Vick is worth $100 million what is Drew Brees worth? Brees broke the 27-year old single-season passing yards record and the mark for completion percentage. AND has a serious case to trump Aaron Rodgers for league MVP. Vick once again failed to complete a full season, playing in just 13 games.

12.) Which rookie QB will have the most immediate success? Gabbert (14 starts), Ponder (10) and Locker (0) saw various amounts of action this season but who was best is still unclear. I'd lean towards Locker at this point.
13.) Is Julio Jones a lock for Offensive Rookie of the Year? Clearly, Cam Newton will have to make room for this trophy on his shelf. However, Jones was impressive when he wasn't hampered by a hamstring injury, as evident by his 54 catches, 959 yards and 8 TDs. A weapon for Matt Ryan for years to come.

14.) Is Von Miller the next Lawrence Taylor or Vernon Gholston? How's 11.5 sacks and a Pro Bowl selection and a lock for Defensive Rookie of the Year?
15.) Which team will Bill Cowher be coaching next season? As of Black Monday three head coaching jobs are open (Bucs, Jags, Rams) with several more likely to become available (Chargers, Colts, Dolphins).
16.) What will Gus Johnson's signature call be this year? Gus did not do NFL games this year. And the world is worse off because of it.

17.) Will the Lions be as good as everyone thinks, finally? I put the Lions 2011 success on the health of Matthew Stafford, and guess what? The 23-year old QB played all 16 games, became the 4th player ever to throw for 5,000 yards and tossed 41 touchdowns and Detroit made the playoffs for the first time since Wayne Fontes roamed the sidelines.
18.) Will Darrelle Revis and Nnamdi Asomugha have more interceptions this year than me? For the 10th straight year, I again recorded zero interceptions, however, Revis (4) and Nnamdi (3) earned their paychecks.
19.) Is HBO's next show, Fired or Playoffs: the Gary Kubiak Story? So the Texans won the AFC South for the first time despite losing Matt Schaub, Andre Johnson and Mario Williams for significant parts of the season. OK, so Peyton Manning missing all of 2011 helped. Considerably.
20.) Is Mark Herzlich the next Zach Thomas? Of course, Herzlich has a long way to go to becoming ZT, but he did play in 11 games this year for the Giants, starting two. Great, great story.

21.) What will prevent the Chargers from reaching the Super Bowl this year? Yup, the Chargers started 4-1 and finished the year 4-1. Oh, right, that six-game losing streak in the middle didn't help. Neither did Philip Rivers' 20 picks.
22.) Imagine for a second if the Packers stay healthy; scary, huh? 15-1 and Aaron Rodgers with maybe the best QB season ever. See what I mean?
23.) What superhero will Stevie Johnson turn into this season? Statistically, Johnson was almost just as good this year as last, however it didn't really seem like it. The penalties and fines for showboating didn't help him, either.
24.) Is this Alex Smith's last chance? Smith was called the dreaded "game manager" earlier this season, but I'm sure he'll take it as the 49ers earned the No. 2 seed in the NFC. Smith threw for 3,150 yards and had 17 TDs to just 5 INTs.

25.) Will Sebastian Janikowski break the FG distance record? This one is probably my favorite, as SeaBass tied the NFL record in Week 1 at Denver.
26.) Is Jamaal Charles the next great all-purpose back? Probably my least favorite, as Charles blew out his knee in Week 2 and missed the whole season.
27.) Which is greater: Eric Berry's potential or Ed Reed's career? My second least favorite, as Berry pulled a Charles, or did Charles pull a Berry? Either way, Berry blew out his knee in Week 1 and missed all of 2011, meanwhile, Ed Reed added another Pro Bowl season to his Hall of Fame resume.

28.) Higher total: Jay Cutler passes off his back foot or times sacked? Surprisingly, Cutler was only sacked 23 times in 11 games this season. Though, he did miss the last five games after breaking his thumb – all Bears losses – as Chicago went from playoff contender to on the outside looking in.

29.) Which division winner from 2010 will miss the playoffs? "Top options include Colts, Bears, Seahawks and Chiefs" is what I wrote in September. None made the playoffs.

30.) Will Adrian Peterson truck some literally into next week? Poor Adrian Peterson, who suffered a devastating knee injury in Week 16 and may miss the start of next season. But kudos for posting a hilarious New Year's Eve picture on Twitter.
31.) Will Brandon Marshall return to his Broncos form with Chad Henne throwing him the ball? So Henne wasn't exactly the answer for the Dolphins, suffering a season-ended injury in Week 4, but Marshall was very solid this year with Matt Moore. He finished with 81 catches for 1,214 yards and six TDs.
32.) How many years does Ray Lewis have left? Perhaps this season, more than ever, Lewis looked a notch below his usual self. He missed four games with a toe injury but still managed 95 tackles on the year. The Ravens are the No. 2 seed in the AFC and will need him at his best.

33.) If Rob Gronkowski spikes the ball hard enough after a touchdown, will it disintegrate? Thought I was the only one who caught on to Gronkowski's killer post-touchdown spikes. Turns out someone started a website in vain of Tebowing for the Patriots' beast tight end. Gronking. Eat your heart out.
34.) If Eli Manning throws 25 INTs again will Mayor Bloomberg send him to jail for 20 months? Eli's interceptions were down, only 16 this year, and he led the Giants to an NFC East division crown but a four-game losing streak late in the year didn't calm anyone's nerves. Still, he's not in the Brady/Rodgers/Brees class.
35.) Should Troy Polamalu cut his hair does the Steelers defense suddenly become human? Polamalu played a full season in 2011 but had just two interceptions and the Steelers defense wasn't the same menacing bunch as in years past. Could it be the league crackdown on illegal hits got to the Curtain or are they just a little older?
36.) If the Patriots fail to win a playoff game, does the mystique take a hit? They've done it again, the Patriots will host a playoff game in the Division round against possibly the Bengals or Broncos. Yeah, I have no idea either.
37.) Will someone finally punt one off the jumbotron at Cowboys Stadium? Still at zero punts off the jumbotron. Kickers are useless.

38.) Will Peyton Manning become a head coach someday? I think we all need to start wrapping our head around the idea that Peyton Manning may never play again. Not that I didn't say this months ago. (oh wait, I did.)
39.) How many would-be tacklers will Peyton Hillis and LaGarrette Blount leap over this season? Well the Madden Curse struck again, taking down Hillis after his breakout 2010 campaign, while Blount got off to a cold start he did manage at least four leaps, by my count.
40.) If Larry Fitzgerald played with one hand tied behind his back for the whole season, would he still catch 100 passes? How many times a day do you think Fitz texted Kurt Warner begging him to come back? 50?
41.) Why doesn't Steven Jackson have a cooler nickname? No nickname, and after a 2-14 season, he's hoping for a new zip code.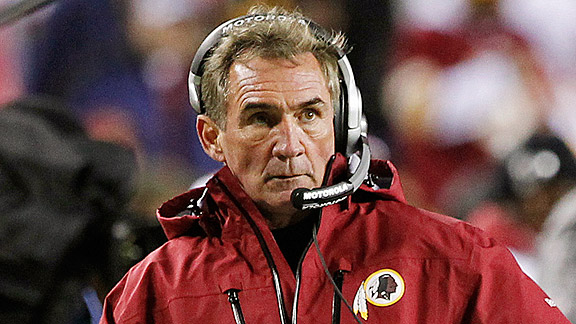 42.) Does Mike Shanahan really know what he's doing in Washington? Yes, the Redskins at one point this season led the NFC East. Yes, they also finished the year 5-11. And yes, they still employ Rex Grossman and John Beck as quarterbacks.
43.) Fireman Ed knows he jumped the shark like three years ago, right? Greatest moment of the year: Brandon Jacobs telling Rex Ryan to "shut the f—k up, fat boy." Second greatest moment of the year: Rex Ryan's postgame press conference where he said the Jets can still win the Super Bowl. Yup, on Madden, maybe. You are what your record is.

44.) Assuming Jason Garrett uses the "good plays" all season, will the Cowboys threaten the scoring record? Ya know, Tony Romo actually had a pretty good year (4,184 yards, 31 TD, 10 INT) so what was the problem? Right, no running game and terrible coaching. Got it.
45.) Will Mike Wallace have the first 4-catch, 240-yard, 4 TD game in NFL history this season? Believe it or not, Julio Jones came close with a 3-catch, 131-yard game against the Colts. Wallace's best: 3-catches, 118 yards in Week 7.

46.) How will Brett Favre steal headlines this season? Aside from his one interview where he said he was surprised it took Aaron Rodgers this long to win a Super Bowl, and those awkward Wrangler Jeans ads, Favre has stayed out of the NFL headlines this season. As it should be.